MarsNews.com
::
NewsWire
:: Budget
November 21, 2014
How NASA Plans to Land Humans on Mars
The Planetary Society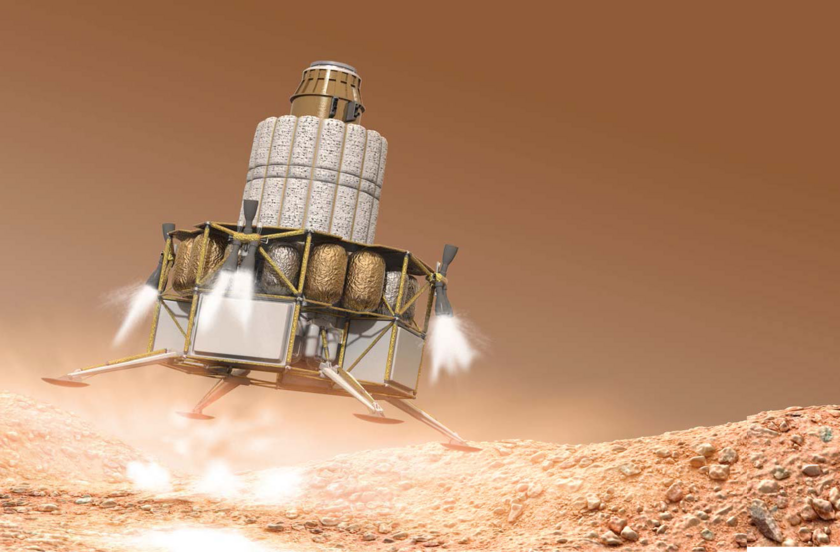 On the surface, NASA's humans to Mars plans seem vague and disjointed. For instance, it's difficult to see how visiting a captured asteroid in lunar orbit fits into a bigger picture. But if you combine Gerst's speech with two days of symposium panels and a day of interviews at NASA's Marshall Space Flight Center, the full breadth of what the agency is trying to do begins to makes sense. There is indeed a plan to put humans on Mars. Vague? Yes. Hard to see? Absolutely. But that's because Gerst and NASA are playing the long game. And right now, it may be the only game they can play. There are three big reasons NASA can't lay out a comprehensive Mars plan: flat budgets, a perilous political landscape, and the sheer scale of a 20-plus-years program. Thus far, NASA's most audacious human exploration program kicked off in 1961, when John F. Kennedy declared Americans would walk on the moon by the end of the decade. The nine-year program was a success, but it was bolstered by a strong political mandate and more than double the funding NASA receives today. The agency's budget peaked in 1966 at $43.5 billion (in 2014 dollars). Today, NASA gets about $18 billion. There's not much political will to go to Mars, and no indication that NASA's budget will change significantly. In fact, NASA doesn't even have a fiscal year 2015 budget yet, as it operates under a stopgap continuing resolution.
November 14, 2014
'Get your ass to Mars': Buzz Aldrin wants humans to permanently occupy Mars
Yahoo!
The second man to walk on the Moon, Buzz Aldrin, said he wants humans to permanently occupy the planet Mars. Speaking to the BBC, while wearing a "Get Your Ass to Mars" t-shirt, he said funding for space exploration by the US needs to be at least doubled if humans are going to land on Mars by 2035.
August 31, 2014
Space Launch System approved, we're going to Mars
Nerd Reactor
Hey, want to go to Mars? Well, in a few years you can…kind of. The Space Launch System is the most powerful rocket we've built yet. The spacecraft needed approval from the SPAR agency before putting it to test. On August 27th, they gave us the okay and now, we are officially going to try and bring humans to Mars. Isn't that crazy? In 2018, which isn't too far away if you think about it, we're going to send the Space Launch System carrying the Orion spacecraft up into orbit. The SLS will be configured with a 70-metric-ton lift capacity. The final version of the SLS will be able to carry 130 metric tons.
July 14, 2014
Spinning to Mars
The Space Review
Thirty years ago today a group of scientists, grad students, and all around Mars enthusiasts wrapped up the four-day Case for Mars conference in Boulder, Colorado. While there, they drafted plans for a human Mars spacecraft that became enshrined—at least for a little while—in popular culture. A large spinning vessel consisting of three nearly identical ships and their landing craft, it was a serious attempt at defining a human mission to Mars. By the early 1990s, one of the Case for Mars participants, Carter Emmart, produced a beautifully detailed model of the spinning spacecraft that was placed on display in the Smithsonian's National Air and Space Museum in Washington, DC. Now, after a long absence, that model is back in public view.
July 8, 2014
NASA finalizes contract to build the most powerful rocket ever
Los Angeles Times
SA has reached a milestone in its development of the Space Launch System, or SLS, which is set to be the most powerful rocket ever and may one day take astronauts to Mars. After completing a critical design review, Boeing Co. has finalized a $2.8-billion contract with the space agency. The deal allows full production on the rocket to begin. "Our teams have dedicated themselves to ensuring that the SLS – the largest ever -- will be built safely, affordably and on time," Virginia Barnes, Boeing's Space Launch System vice president and program manager, said in a statement. The last time NASA's completed a critical design review of a deep-space human rocket was 1961, when the space agency assessed the mighty Saturn V, which ultimately took man to the moon. Work on the 321-foot Space Launch System is spread throughout Southern California, including Boeing's avionics team in Huntington Beach. The rocket's core stage will get its power from four RS-25 engines for former space shuttle main engines built by Aerojet Rocketdyne of Canoga Park.
June 27, 2014
Congressman Posey: We Need Neil DeGrasse Tyson To Get People Excited About Going To Mars
The Huffington Post
House lawmakers met Wednesday to tackle a daunting task: how to keep Congress committed to investing hundreds of billions of dollars into a decades-long plan to send humans to Mars. A manned mission to Mars has long been the stuff of science fiction, but it's one of NASA's biggest projects as part of its larger goal of laying the groundwork for permanent human settlements in the solar system. William Gerstenmaier, an associate administrator at NASA, told a Senate committee in April that the agency is currently focused on intermediate space missions but hopes to build up to long-duration space travel. But if humans are ever going to reach Mars, a panel told the House Committee on Science, Space and Technology, it's going to require steadfast public enthusiasm, the support of multiple presidential administrations, international cooperation, private sector involvement and, perhaps most challenging, a bipartisan agreement in Congress to keep funding the venture for at least another 30 years.
June 25, 2014
Unity on Mars mission easier said than done
It will take unprecedented unity, funding and international teamwork to land astronauts on Mars within the next 30 years, the co-chairmen of an independent government panel advocating such a mission told a congressional committee Wednesday. Then the two co-chairmen got a glimpse of why those goals won't come easy. GOP lawmakers at Wednesday's hearing bashed the Obama administration for abandoning a return-to-the-moon mission in favor of using an asteroid as a steppingstone to Mars. Democrats said Republicans have no right to complain about lack of money for the space program when they've pushed for budget cuts. And lawmakers from both parties raised doubts about whether potential foreign partners, notably China, can be trusted. Former Republican governor Mitch Daniels of Indiana, co-chairman of the National Research Council panel that issued the 285-page report earlier this month, acknowledged the enormity of the task. "Getting humans to the surface of Mars will be a daunting challenge," Daniels, now president of Purdue University, told members of the House Science, Space and Technology Committee. "Succeeding in this endeavor will require, we believe, a very different way of doing business than the nation has been practicing in recent decades."
June 4, 2014
America's Long-Term Space Goal: Let's Put Humans on Mars
NBC News
A new report from the National Research Council declares that the expenses and risks associated with human spaceflight can be justified only by the goal of putting humans on other worlds, with the "horizon goal" of getting to Mars. That goal is consistent with NASA's long-term vision for space exploration — but the report, titled "Pathways to Exploration: Rationales and Approaches to a U.S. Program of Human Exploration," goes farther by noting that NASA's current budget is too meager to reach the goal, and that it's "in the best interests of the United States" to let China participate in future space partnerships. NASA's budget has been trimmed back in recent years, and there's currently a ban on U.S.-Chinese space cooperation.
March 24, 2014
NASA's Strategic Plan 2014 Released
Leonard David's INSIDE OUTER SPACE
NASA has released its 2014 Strategic Plan, with the space agency's Office of Strategy Formulation identified as the responsible office. "Our long-term goal is to send humans to Mars. Over the next two decades, we will develop and demonstrate the technologies and capabilities needed to send humans to explore the red planet and safely return them to Earth," explains NASA chief, Charles Bolden, in the opening pages of the document.
March 17, 2014
Obama proposes ending Mars Odyssey, Mars Opportunity in NASA budget
Examiner.com
According to a March 13, 2014 story on Fox News, two venerable but successful Mars probes face the budget ax by the Obama administration in the FY 2015 funding request for NASA. "NASA's baseline budget for the year beginning Oct. 1 pulls the plug on the 10-year-old Mars rover Opportunity, newly released details of the agency's fiscal 2015 spending plan show. "The plan, which requires Congressional approval, also anticipates ending the orbiting Mars Odyssey mission on Sept. 30, 2016."
February 26, 2014
Full Committee Hearing - Mars Flyby 2021: The First Deep Space Mission for the Orion and Space Launch System?
House Committee on Science, Space, and Technology
The Science, Space, and Technology Committee will hold a hearing titled Mars Flyby 2021: The First Deep Space Mission for the Orion and SLS at 10:00 a.m. on Thursday, February 27th. This hearing will explore the need for a roadmap of missions to guide investments in NASA's human spaceflight programs, how a manned mission to flyby the planets Mars and Venus launching in 2021 might fit into a series of missions and how the Space Launch System (SLS) and Orion Multipurpose Crew Vehicle could contribute to that mission.
November 20, 2013
World's first space tourist gives details on manned mission to Mars in 2017 - 2018
The Verge
Dennis Tito, the American entrepreneur who paid $20 million in 2001 for a trip to the International Space Station, spoke before a House subcommittee on space today to outline his plans for reaching Mars. According to Tito, the "Inspiration Mars" endeavor will be a fly-by mission that'll take two astronauts 808 million miles from Earth to Mars and back again in 501 days. And he'll need more than $1 billion to do it. The plan works within a narrow timeline that takes advantage of a rare alignment in Earth and Mars' orbits. According to Tito's written testimony, the launch will need to take place between Christmas 2017 and January 5th, 2018 to ensure a speedy trip. So to pull that off, Inspiration Mars will need complete cooperation from NASA — the two-man crew aboard the Inspiration Mars' commercial craft will need the space agency's huge Space Launch System (SLS) rocket to propel them there. The SLS rocket is still under development.
November 5, 2013
Why India's Mars Mission Is So Much Cheaper Than NASA's
NPR
Former NASA Administrator Daniel Goldin pioneered a "faster, better, cheaper" approach to America's space program, but he would have been hard-pressed to deliver a Mars mission for the bargain-basement price of India's first probe to the red planet, which blasted off Tuesday. "India's Mars mission, with a budget of $73 million, is far cheaper than comparable missions including NASA's $671 million Maven satellite that is expected to set off for Mars later in November," reports The Wall Street Journal, which is among several publications noting the disparity between the cost of U.S. space missions and India's burgeoning program. Even the project director of India's Mars orbiter mission has been quick to tout his country's frugality in space: Indian Space Research Organization (ISRO) "This is less than one-tenth of what the U.S. has spent on their Mars mission Maven," S. Arunan told reporters at a pre-launch news conference last week, according to Al-Jazeera, which added that "the cost-effectiveness of the mission is indeed turning out to be the highlight of the project, almost eclipsing the other aspects."
October 16, 2013
Spaceflight experts work on alternate vision for Mars trips
NBC News
While NASA works on a multibillion-dollar, decades-long space exploration plan that relies on monster rockets, an informal cadre of engineers is laying out a different vision that would take advantage of cheaper, smaller spacecraft that can fuel up at "truck stops" along the way. Right now, the alternate vision, known as the "Stairway to Mars," is little more than an engineering exercise. But the plan's proponents on the Space Development Steering Committee say their scenario for Mars missions in the 2030s may have a better chance of becoming a reality than NASA's scenario.
Millions Of Miles From Shutdown, Mars Rovers Keep Working
NPR
The budget negotiations in Washington are not front-page news on Mars. There, millions of miles away, NASA's rovers continue to operate, taking photographs and collecting data as they prepare for the coming Martian winter. The two rovers are taking in data and getting into strategic locations before winter arrives on Mars in a few months. The scarcity of sunlight shouldn't pose a challenge for Curiosity, whose systems are powered by heat generated by the radioactive decay of plutonium. NASA hopes that the older Opportunity, which powers itself with solar panels, will be aided by its position on a north-facing slope.
---